A Call To Worship (http://myweb.ecomplanet.com/mill8678) - This site has been such a blessing to me! Steve, Vicky, and Paula did a wonderful job compiling solid biblical teaching on the use of flags, streamers, banners, tabrets, & shields in Christian praise and worship. Certainly anointed and certainly a site you don't want to miss. And, if the Lord lays it on you heart, it would be very much appreciated if you'd bless them finacially with donations to show them that they have blessed you, too! This would help them continue to make this wonderful resource available to those who seek to learn more about worshipping in a new and exciting way. I guaranteed that it will be seed sown in fertile ground and I promise you'd be blessed for it.
The Ministries of Hegai (formerly Alabaster Box Ministries) (http://www.alabasterboxmin.org/) I am SO blessed to have found this ministry - it was a divine connection! Annette & Mark Ettinger founded this unique and anointed ministry and teaches the scriptural significance of the fragrances in bible. They offer an awesome book called "The Locked Garden" which is a prophetic interpretation of the Song of Solomon, Chapter 4 verses 12 through 14. This book alone will change your life and certainly give you a revelation of who we really are as The Bride of Christ. They also offer a reference book with scriptural teaching on prophetic anointing oils, as well as a variety of oils, blends, and different products. I found her products help me achieve a more intimate, spirit-filled relationship with the Lord through the power of His Spirit via the power of the senses! Annette is a blessing from the hand of God.
Worship Dance (http://worshipdance.org) - Bona Gerrie has a heart for teaching Christians about worshipping God through dance. Her site is a wonderful resource and lists several links that would be helpful to the Christian dancer.
I Lift Up My Eyes Web Ministries (http://psalm121.ca) - Hundreds of Christian resource listings, chat room, prayer and intercession teaching, and prayer warriors. A great resource site for any Christian to visit.
DramaShare supports those involved in Christian Drama Ministry, world-wide, with How-to manuals, scripts, seminars and resources. Visit their site for tons of resources and information on sharing the gospel of Jesus Christ through the Arts.

If you're looking to get away with your family or friends for some wonderful Christian fellowship in a relaxed atmosphere, this is the place! They are located in the beautiful mountains of New Ringgold, Pennsylvania and host many well-known speakers from around the world. Their facility offers tent & RV camping, as well as other accommodations (for you 'non-campers'). They have a great children's ministry, and offer group season rates for your church or group retreat. We're blessed to have their bookstore carry many of our items (they also offer batons & tambourines), and the folks there always make you feel like you're family. Their praise & worship services are always rich in God's presence and that alone is well worth the trip! Visit their site to check out their schedule and request a free brochure.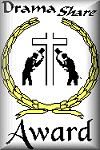 http://www.dramashare.org